News
The TBS Fondation, Together Building Solidarity

The TBS Foundation was created in 2008 by graduates wishing to develop intergenerational mutual aid and to promote equal opportunities for our students.

Faithful to its values, it has been supporting TBS students for 14 years with the same mission: to offer them the conditions for a more serene education that combines educational well-being and excellence.
Actions
Thanks to its corporate sponsors and individual donors, it finances, supports and develops various projects: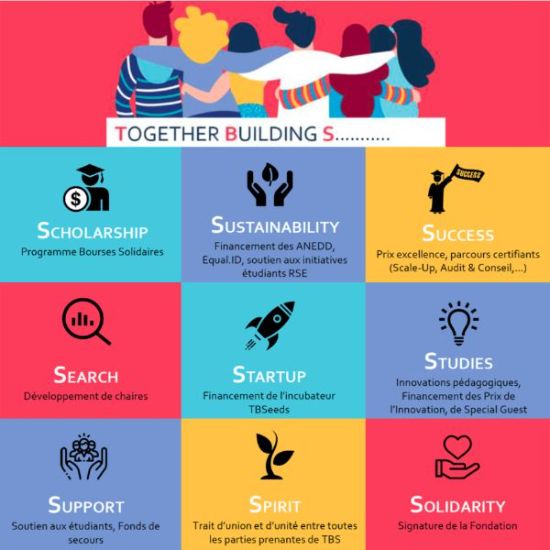 Over €6 million raised since 2008

+ 1,500 merit-based grants, representing €2.6 million

160 students awarded a prize for excellence
111 projects incubated with 36 companies and 104 jobs created

€63,000 released by the COVID emergency fund in the form of 84 grants to help the most disadvantaged students.
A Trilateral Project Is Born!
ESCadrille and TBS Alumni commit together to the inclusion of all TBS Education talents, for the benefit of the TBS Foundation. A virtuous circle between the three entities, a strong symbol of commitment and "Give Back: For each study commissioned by an Alumni to the Junior-Enterprise of TBS Education - ESCadrille, 10% of the stud...
Supporting our Students' Social Impact Projects: Discover our Mission!
Did you know? In the five main areas of intervention of the TBS Foundation has set itself (Equal Opportunities, CSR, Entrepreneurship, Research and Pedagogy), support for our students takes place at different levels. By awarding grants to students in precarious situations, financing the development of the TBSeeds incubator, etc., the Fo...
---
I like