News
I wanted a job that made sense

Can you tell us about your student career at TBS Education?
Originally from Toulouse, I graduated from Sup de Co in 1998. Before that, I had done a preparatory class which allowed me to take the competitive exams after one year. In the last year, I chose the marketing and management of service activities specialisation. I hesitated to do my third year abroad, in the United States. I had taken all the English exams, but in the end I chose Toulouse. Today, even if I am now in Paris, I have good memories of Toulouse and Sup de Co. These studies gave me intellectual fulfilment, I liked all the subjects, I had a weakness for marketing. However, I couldn't see myself in a large company or a large group, or in all the positions I was going to apply for in Paris! For me, this did not correspond to me, I wanted to move, to find the job that would make me vibrate. We could almost say that the end of my studies at Sup de Co marked the beginning of my existential crisis: I didn't just want to earn a living, but to have a professional life that made sense.
What about the next of your atypical career?
So, after Sup de Co, I asked about the navy with the wish to embark on an aircraft carrier but it was not possible because I was a woman... I have always liked writing, I have always been curious with the taste to learn new things. So I became a journalist at La Dépêche du Midi after I graduated.
Then, shortly afterwards, I thought again about the army which represented for me an environment with a strong collective spirit. Moreover, with the suspension of national service, the army was recruiting contract officers to replace conscripts. I decided to do my service with a support job in the 7th Battalion of Alpine Chasseurs in Bourg-Saint-Maurice. I first did my training for a month in Saint-Cyr in Bretagne in order to acquire the basic knowledge of the military profession, even though I had a civilian function. I was in charge of communications for the regiment, which consisted of about 1,000 people. I was in charge of internal and external communication, press and public relations as well as recruitment communication.
Afterwards, I was a journalist for the Army in Paris for four years. I covered the news of the regiments in France during manoeuvres, in the camps or on particular subjects such as the more extreme professions. I also followed soldiers on external operations (Afghanistan, Kosovo, Bosnia, Chad...). In my eyes, this period represents my best years, I was writing, doing journalism, meeting new people, learning new things, especially about the culture of the troops, and it was very rich in human terms. At that moment, my life had found its meaning. The people around me were there to serve and I had the feeling of being useful.
At that time, I was abroad for 200 days a year and I wanted a more stable situation, to find a more sedentary position that was more in line with my academic training. So I was in charge of recruitment advertising campaigns for the army, which was looking for 15,000 men a year. I organised the competitive dialogue with the various agencies, and I managed the creation and implementation of the campaign (production of the TV spot, purchase of advertising space, launch). Then I managed teams looking for partnerships to help place former military personnel. This made it possible to help soldiers reintegrate into the workforce. In total, I stayed in the army for 12 years, my contracts were renewed each time. At the end, I left the army to join the civil service within the Ministry of Solidarity and Women's Rights, now the Ministry of Health. I conducted public and advertising campaigns on various subjects such as abortion, autism, generic drugs in collaboration with the Assurance Maladie, as well as information and awareness campaigns on the web, social networks and posters.
In parallel to my career in the army, I never stopped painting and drawing. When I was in Paris in charge of advertising campaigns for military recruitment, I did a degree in plastic arts at the Sorbonne and attended evening classes in sculpture at the Beaux-Arts workshops in Paris. After three years of training at the Atelier du Temps Passé in Paris, I obtained my diploma as a conservator-restorer of paintings. For me, it was a life opportunity, both rigorous and artistic, this new profession combined these two dimensions through the study, the diagnosis, the reflection on the treatment and its implementation, whether on the conservative or aesthetic level. Today, this job fulfils me completely, it reconciles rigour, scientific curiosity and artistic sensitivity, it is also a manual job where we can quickly observe the impact of our actions. This contact with the work gives me great satisfaction.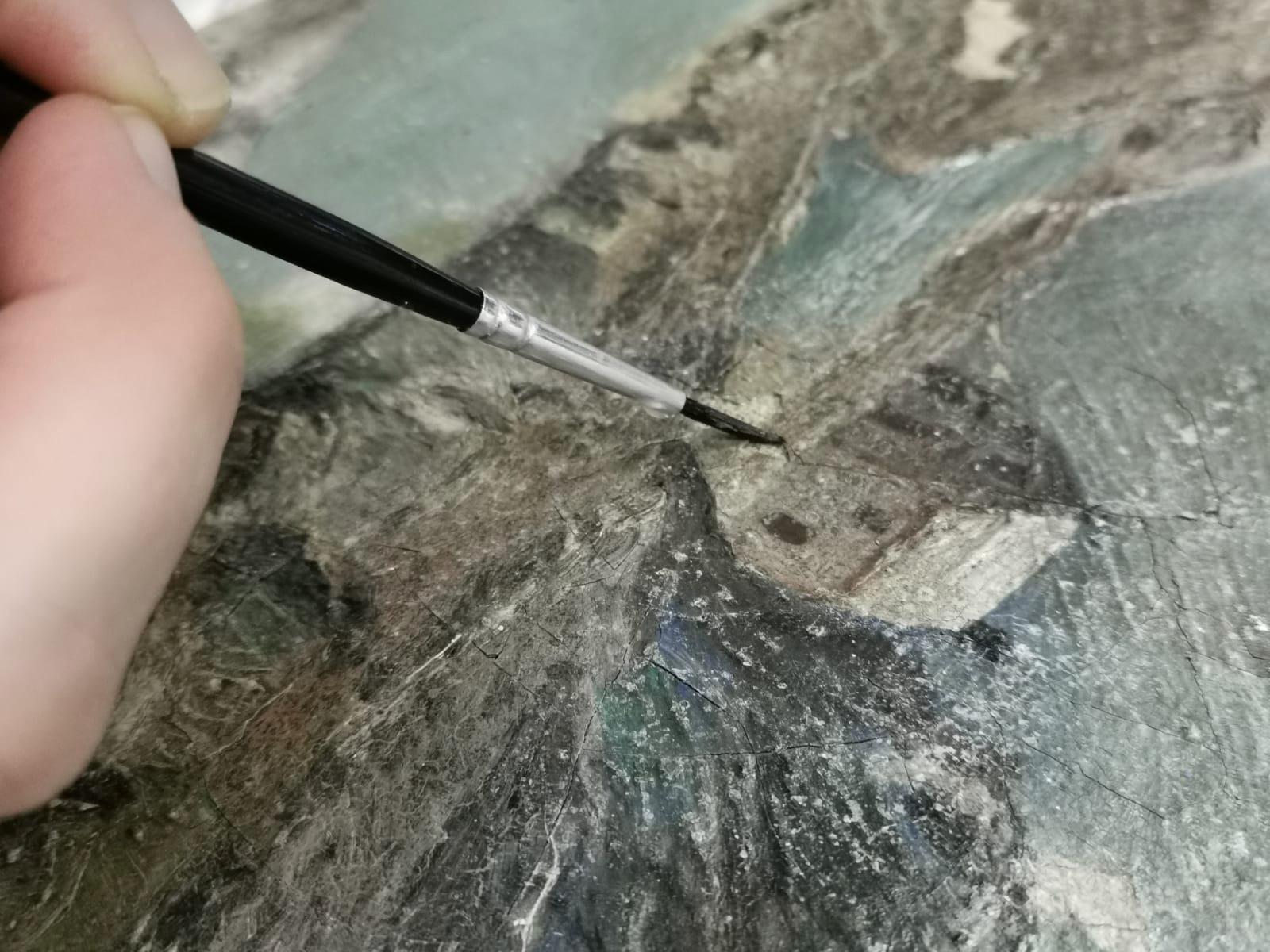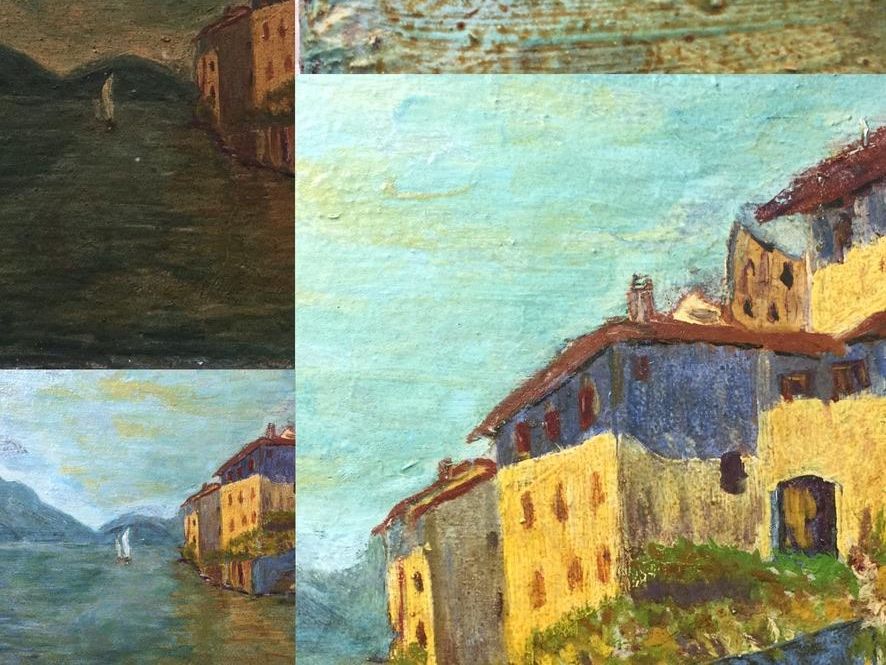 Can you tell us about your business?
I am based in Paris in a workshop, alongside a more experienced restorer. I restore paintings that have suffered, that have holes, tears or when the paint has lifted, the work has become dirty or the oxidised varnish alters its legibility. I also take part in projects, such as church paintings in the Cantal region of France or very large paintings mounted on the walls of the Faculty of Pharmacy in Paris.
In fact, I am a bit like a doctor of paintings, I take charge of them, I establish a diagnosis, I carry out tests and set up a treatment to repair the alteration of a painting. I am committed to respecting ethical principles, I use products that are the least toxic for humans and the most respectful of the painting. It is important to know that behind the desire to restore a work of art, my clients actually have two objectives: the aesthetic aspect and the conservation aspect. Each work tells a story and it is with respect that I restore them. At the end of my studies, I wanted to do a job that made sense, I was lucky and I seized opportunities with tenacity, until today, where I fully blossom in this passion for art and heritage, and their preservation.
How can we contribute to this enthusiasm?
Today, in spite of a communication on Instagram, I need a website to bring more visibility to my workshop. I would like a showcase site that is both educational and aesthetic in order to explain in more detail the conditions of reception and the handling of each work. I would like it to be possible to make appointments in order to facilitate my customer relations.
Do you have special skills in website design? Help Garance with her project!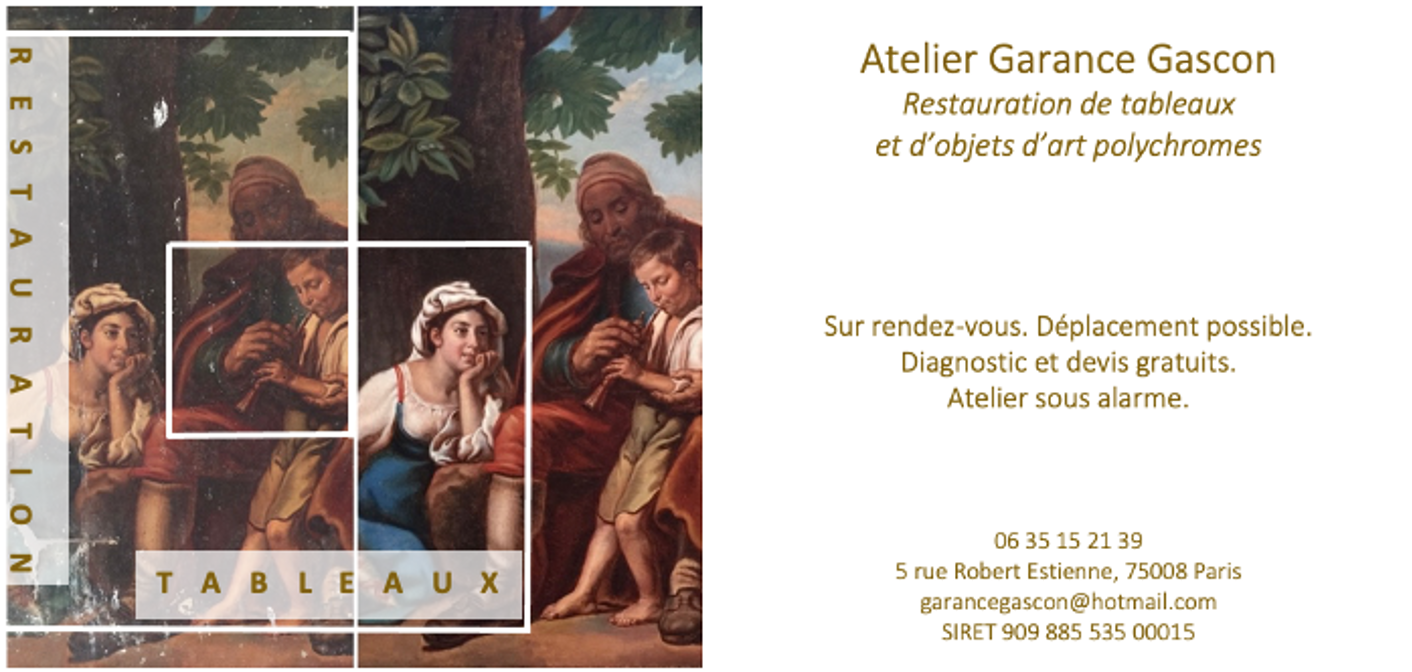 You must be logged in and a member* to contact Garance GASCON (TBS 1998)
* TBS Alumni graduates from the 2017 and earlier classes are required to pay a lifetime subscription to benefit from all our services. To find out more
Other members are invited to demonstrate their spirit of solidarity by becoming a Donor Member of the TBS Foundation. To find out more, click here.
---
1
I like