News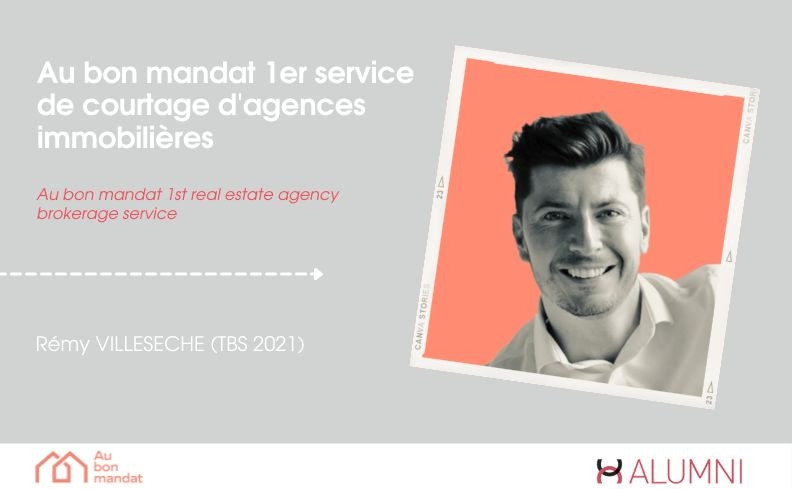 Au bon mandat 1st real estate agency brokerage service

Au bon mandat finds the best agency to sell your property. After 2 years of market research and meetings with real estate players, the Toulouse-based start-up created by Rémy VILLESECHE (TBS 2021) is born in 2002.


🏡 The concept
Rémy started his professional career 15 years ago as a salesman and then as manager of several sales agencies in the IT sector.
At the same time, he developed a strong interest in real estate and has been buying and selling real estate for over 10 years. Thanks to this, he has developed an objective expertise of the real estate market. In 2020, Rémy Villeseche decided to devote himself entirely to his passion: real estate. In order to perfect his skills, he undertook the real estate transaction manager course at TBS.

After 14 years of observing, interacting, being a buyer and then a seller, he made 3 observations:
- 1 out of 2 ads is posted at the wrong price: For reasons that are often structural, many properties are overvalued or undervalued. In both cases, the seller loses out.
- The multitude of offers available for a property sale makes it difficult for the seller to choose.
- It is difficult for local agencies to stand out from the competition.

He therefore decided to create the first estate agency brokerage service to enable the seller to meet the best agency for his sale project.
☀️ The benefits
For owners:
Au bon mandat allows you to be sure of selling your property while optimising your time and money. Thanks to its network of partner agencies, Au bon mandat selects for you the 5 best agencies for your sale project to choose the one that guarantees you to sell at the best conditions. We guarantee a sale within 60 days, without which you will receive financial compensation. All this at no cost to you.
The right estate agents:
As for real estate agencies, Rémy has chosen to work with local agencies. Au bon mandat offers exclusive turnkey mandates, with no fixed costs, and good agents only pay for the mandates they obtain. More than 15 agencies are already partners in Toulouse and its suburbs.
☘️ Socially responsible real estate
"Innovation in the service of tradition

We work hand in hand with local agencies who know the Toulouse market best. We promote local know-how and the local economy in order to promote our beautiful pink city and our good agents!
---
2
I like