News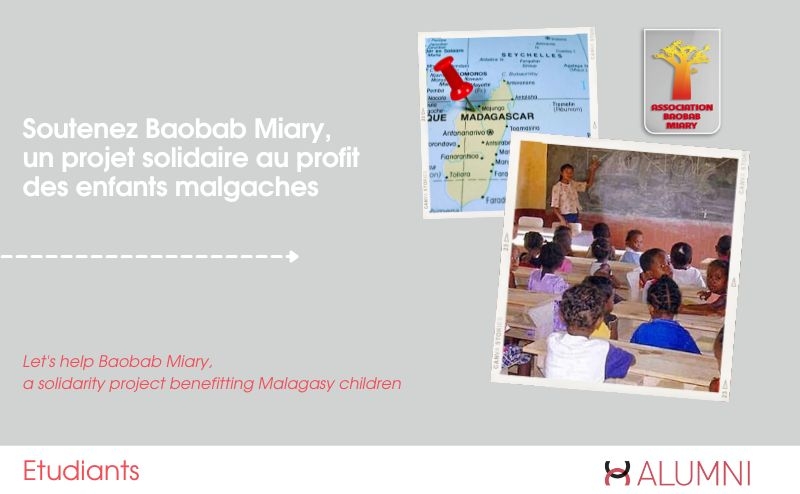 Support Baobab Miary, a concrete, human and solidarity-based project for the benefit of Madagascan children

The association Baobab Miary is represented by a group of 11 PGE students, class 2026. As part of their educational program, they are participating in the WINS project  : Inspiring, Innovative, Inclusive and Solidarity Workshop and are thus helping the Malagasy population. 
💡 The challenge of this project? To support a Malagasy association, helping children  
Baobab Miary is launching a kitty to collect the funds needed to make their project a reality: 1,500€ minimum before the end of April 2023. 
The amount collected would allow to finance the 5th day of canteen for all the children attending school in the village of Miary, a very poor village in Madagascar. The school counts 180 children and 10 adults. Their meal consists of rice porridge.

5 meals for the price of 1 French coffee.
The calculation is simple:

🔍 a meal for a child costs 0,20€.
🤗 Participating with 20 cents in the fundraiser is funding an entire meal for a child!
There is no predefined amount. Free to participate up to what you can and what you want.
A small donation means a lot.
Show your generosity by clicking right here 👇
For more information, contact SIMOES Emilia (TBS Education 2026) at 06.79.19.04.89 or by email 
Many thanks for your help 🤝
Are you a company? You can also participate!
Participating is good, winning is even better  😎

As a company, you can acquire: 
- Notoriety among the students of TBS Education (a great advantage in your employer branding strategy) but also make yourself known to the Baobab Miary association.
- Visibility on Instagram
- A positive and impactful brand image, associated with human and solidarity projects
- A concrete action in terms of CSR and sustainable development (the planet thanks you)
---
1
I like