News
Become a Business Angel, invest in 100% Alumni startups incubated at TBSeeds

TBSeeds, the school's incubator, is organising its first Pitch Evening on March 23rd! 🚀


This event is the opportunity to bring together for the first time on the TBS Education Lascrosses campus, investors looking for high-potential projects and Alumni entrepreneurs, from the TBSeeds incubator, who need financing.


To make sure you have a chance to discover and network around the selected entrepreneurial projects and who knows, invest in one of them, join us on Thursday 23 March at 7pm at the TBS Education Lascrosses Campus - 20 bis Boulevard Lascrosses, 31000 Toulouse.
👉 THE AGENDA:


- 7.00pm: Welcoming and introduction
- 7.25pm: Let's start the pitches!
The entrepreneurs have 5 minutes to present their brands, then 10 minutes of exchanges.
- 8.30pm: What happened to the former incubates? Discover the pitches of Anne-Louise Morin (TBS Education 2017) founder of Tea'magine and Ivan Mittler (TBS Education 2017) founder of Comptoir des Pharmacies. 
- 9.00pm: Cocktail
💡 ZOOM ON THE SELECTED BRANDS TO HIGHLIGHT THEIR AMBITIONS:

BEDBOAT
BedBoat is THE platform for connecting boat owners and renters for dockside accommodation! The startup offers an innovative and highly personalised accommodation service that democratises access to a luxury that is generally inaccessible.
Félix Nacach, Fabian Fohrer (TBS Education 2023),
and Luke Colomb (TBS Education 2022)
BOMOLET
Bomolet has set itself a simple mission: to change the world with its running calves.
The brand is taking the leading sports brands by storm by offering running clothes and socks made entirely in France from recycled plastic bottles. The idea: 100% recycled and infinitely recyclable. A matter of common sense!
Flavien Thouroude (TBS Education 2020)
KURV
Kurv is a point-of-sale flow analysis tool designed to improve the customer experience.
The service focuses on three key points: measuring customer behaviour on the sales floor, optimising merchandising and improving turnover by placing the customer experience at the heart of the strategy.
Victor Grau (TBS Education 2023), Julien Rasteiro (TBS Education 2022) and Robin Thevenet (TBS Education 2024)
MENONE
Menone was created on the basis of a simple observation: we only wear 30% of the clothes we own. So why do we continue to buy so much? Menone wants to change the way we consume clothing by offering a hyper-flexible rental service. Rent, wear and decide: to extend the rental, return or buy. The best way to wear stylish, quality clothes without paying the price!
Laurianne Aune et Maxence Lenoir (TBS Education 2021) 

MA MAISON DES BOIS
Ma maison des bois offers forest houses belonging to private or public owners for rent, for the weekend or the entire week. The startup carries out the necessary work and fittings in order to offer quality services. It also offers top-of-the-range options such as the " fridge-filled ", the electric mountain bike and a range of cultural, gastronomic and sporting activities.
Antoine Sellier (TBS Education 2023)
SLIDOCKS
Slidocks wishes to cultivate the myth of the sock flip-flop in a different way, by offering a top-of-the-range product, designed in a 100% French and eco-responsible way.
Rémi Grandjean, Arthur Privat
and Gautier Tubert (TBS Education 2023)

Willing to discover more... or even better, convinced by one of the projects?
⭐ What if you became a Business Angel? ⭐
Alongside TBSeeds and TBS Alumni, discover start-up or business development initiatives, access a place for exchange within the incubator, and take advantage of meetings and exchanges between Alumni motivated by the idea of participating in the development of the TBS Education entrepreneurial ecosystem.


There is no obligation to invest in any of the projects, just be curious and watch out for opportunities... who knows, there might be a nice surprise in store!


For more information, contact the TBS Alumni team.
👉 READ MORE ABOUT TBSEEDS
Launched in 2012, TBSeeds is co-directed by Olivier Igon (TBS Education 1985) and Laurent Adnet (TBS Education 1998) and is coordinated by Joëlle Lainé. The TBS Education Incubator is a pedagogical programme that welcomes Alumni, learners or graduates, to help them develop and finalise their business creation or takeover projects thanks to a personalised programme.


How does the incubator work?


The programme is structured around two phases: 
1. Incubation: supervision by the incubator managers for a period of 6 months, with coaching (2 coaches per project), thematic group workshops, and the possibility of using the offices and infrastructures.
2.  Acceleration: personalised coaching focused on business development and fundraising.  


TBSeeds, a forward-looking vision: 


The recent context of the pandemic has led us to rethink the economy, our ways of living, working, moving, consuming, producing and ultimately "undertaking".

It is in this context that TBSeeds has increased its actions to raise awareness among students of social and responsible entrepreneurship in order to stimulate the creation and/or transformation of traditional businesses into more social, more supportive, more eco-responsible businesses that contribute to the needs of our economy, particularly in the region.
A few key figures:
- 782 application files, 
- 173 supported projects, 
- 56 start-ups and 2 business takeovers
- And all this with a 5-year survival rate of 65%.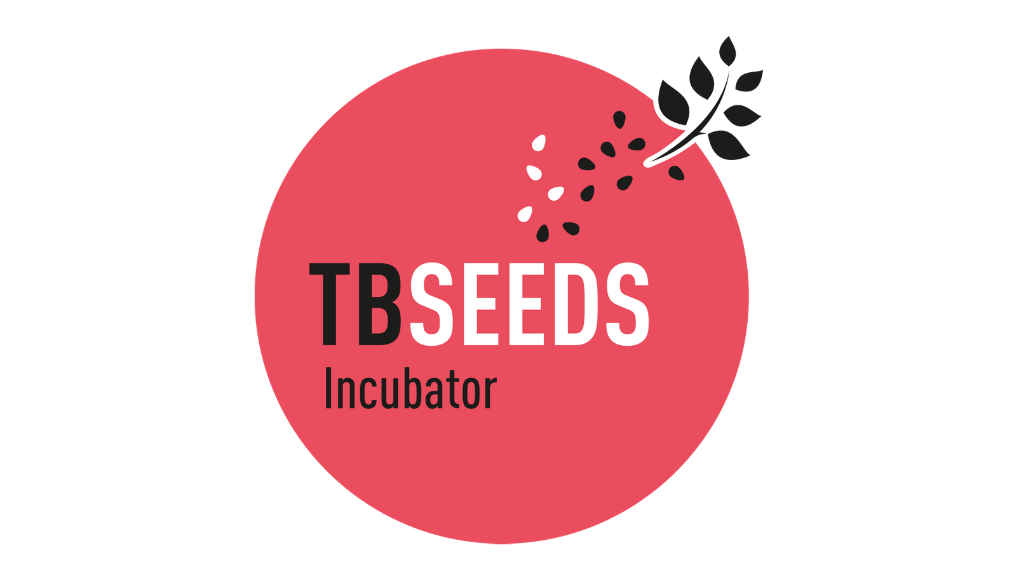 ---
3
I like