News
04 May 2020
Communauté
Julien VALADIE (TBS 2016) and a volunteer team have created a sanitary label for shops
View 255 times
THE RIGHT THING

is a humanitarian project launched on 14th April and came to life thanks to

Julien Valadié

(TBS 2016)
It has brought together 7 volunteers who are experts in their areas (quality control, communication, etc.) including Soizic Fouilland (TBS 2014)
In a dedicated effort, they are doing their best to reply to the healthcare emergency caused by COVID-19.
This sign ✌️ means that the right thing has been put in place as regards safety against COVID
This label allows shops who have respected the sanitary rules recommended by the government to be recognized for their efforts. Thus, THE RIGHT THING encourages economic recovery for the establishment with the label. Affilation is a guarantee for consumer and employee confidence.
In the Toulouse region, THE RIGHT THING has aleady :
Awarded the label to two bakeries free of charge
Collected testimonials from visitors and the personnel working in the shop : they were all reassured about setting up the label. See the customer testimonials here
Printed communications to be posted in future affiliated shops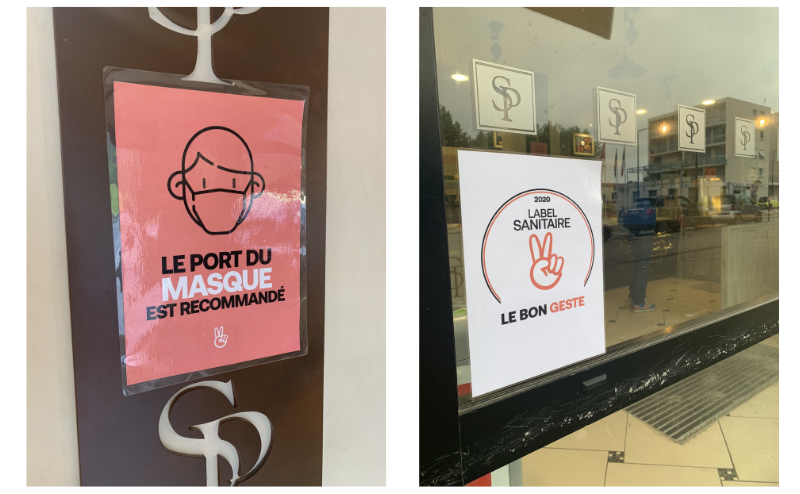 Also :
Affiliation of 11 sales points since Tuesday 5th May 2020 (Intersport, black store, Midica)
These actions were relayed by local press and radio during the week of the 11th May 2020
Affiliation free of charge of 3 new shops
Support their initiative by giving your opinion (1 min) :
https://lebongeste.typeform.com/to/pAezRm
Or by becoming a volunteer
Contact :
FOUNDING MEMBRES
JULIEN VALADIÉ - Management
PIERRE BORONAT - Communication
ALEXANDRE JULLIEN - Quality
KENZA TOUHAMI - Quality
JOINED BY
LOLA VALADIÉ - Communication
PAULINE BARTHE - Quality
RAPHAEL DARMON - Public Relations
LUCAS BOLEA - Communication
VICTOR PANISSARD - Communication
SOIZIC FOUILLAND - Marketing & Communication
ADIA AIT-ALI - Social Media
---